We can help you reach your ESG goals
AquaStacker
Is designed to reduce transportation and set-up costs. The transportation cost is reduced because only two loads will replace just under seven and a half 400bbl tanks. The on-location footprint is also reduced, but it requires a crane or large picker-truck to stack the tanks. The internal manifold is more efficient and saves costs by eliminating trucking a manifold and all hoses to the tank farm. The built-in manifold makes the stacker tank system easier to use in the winter months.
Specifications:
The stacking modules each are 63′ long skidded x 14′ wide x 11.6′ tall.
Stacking tank system holds 448 cubic meters.
Electronic leveling gauge can be satellite connected to give temperature reading and tank volume readings off site (optional)
Exterior insulated and cladded and also Internal dev 100 coating
(reduces possibilities of N.O.R.M's contamination)
Reduced transportation costs
Reduces footprint on location
Reduces the probability of spills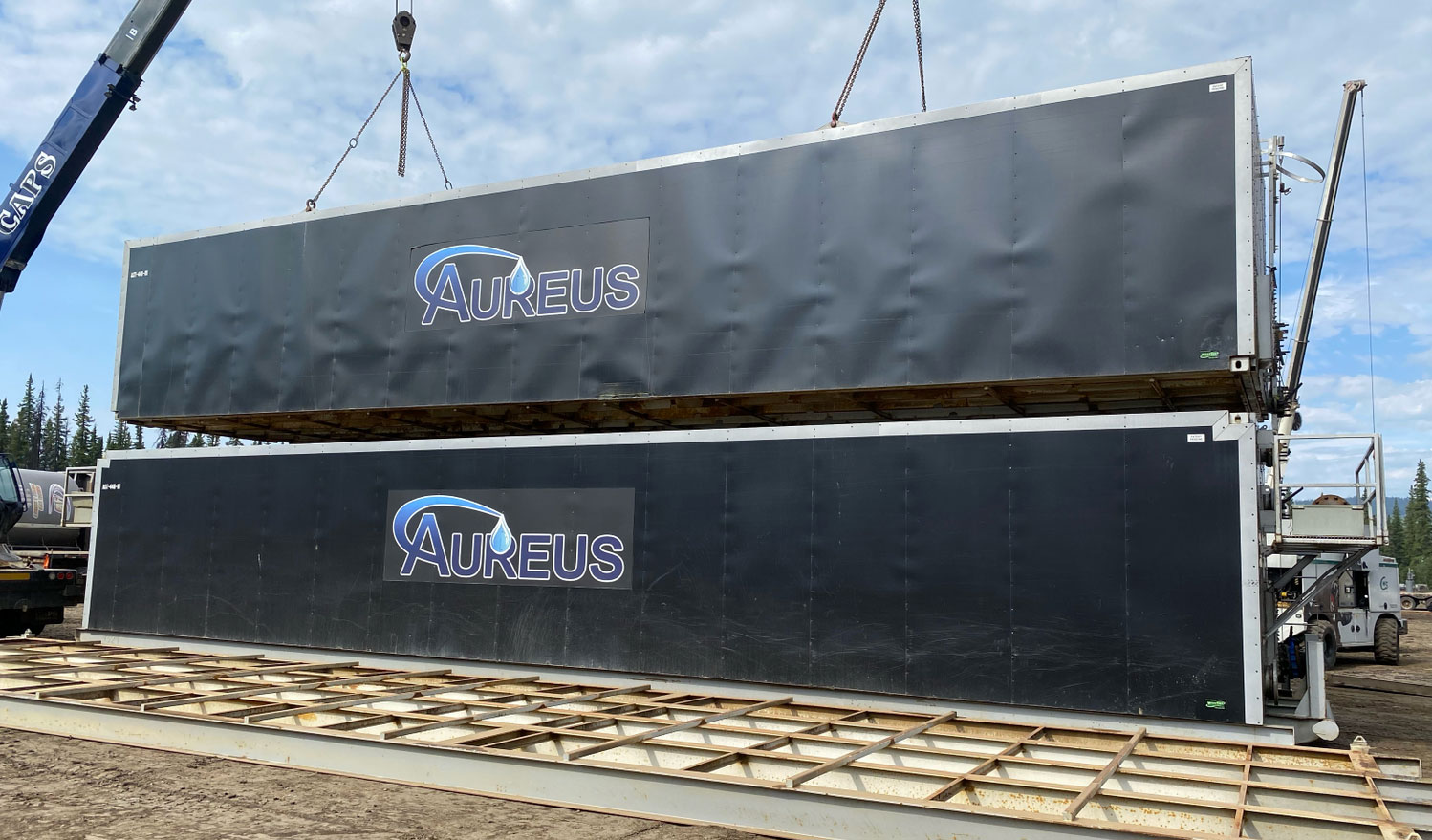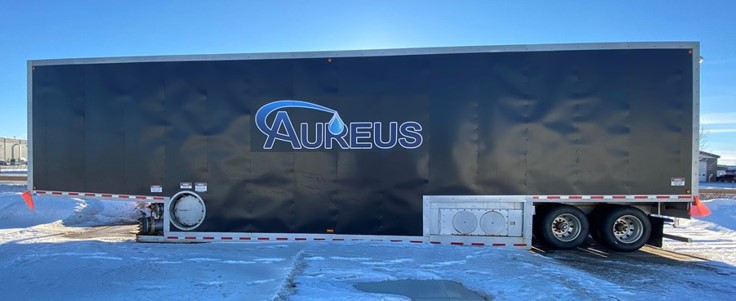 Whale Tanks
Whale Tanks are an innovative solution to frac fluid storage. Engineered to practicality in the field. Whale Tanks are delivered as a single legal load, complete with manifold, monitoring and safety equipment built right in.
Specifications:
Fully engineered/certified for 1.2 specific gravity fluid, with DOT certification for highway transport
243m³ / 1471.8 bbl of tank capacity
Fully sealed venting for sour service
Tank exterior insulated with R12 value & cladded for exterior finish
Multiple 12"- 10" – 8" ports for large volume and high-rate projects
Reduced footprint on location & reduced trucking costs
Dual mechanical & electronic leveling gauge can be satellite connected to give temperature readings off site (optional)
C-Ring
C-Ring Storage Tanks were designed to solve onsite fluid storage challenges for completion activities. The Aureus 6,500 m3 C-Ring replaces over one hundred 400 bbls onsite and comes to site on two truck loads. Our C-Rings may be used in fresh or produced water applications and included single or double liner, stairs, intake and discharge manifolds, and bird netting upon request.
Specifications:
6,570m3 (41,000bbl) – 157' in diameter and consists of 15 panels. Replaces 104 x 400bbl
5,500 – 6,000 lbs. each
Each panel is 12' x 33' and is insulated with 2" of spray on foam Liner:
30 or 40 mil polyethylene liners available in stock
Can provide specialty liners as required